Tim reads webcomics (October 13, 2010)
Hello again. Today's "Tim reads webcomics" is brought to you by Breast Cancer Awareness Month. Therefore I'm going to make you aware that breasts do, in fact, exist (something you might not have noticed while living in your parents' basement and only reading xkcd). I must warn that most of the comics I discuss below are not exactly welcome in work-related enviroments, or in the presence of children. Also I'm pretty sure Carl will get angry at me for posting so much smut, but I only did this for charity! Honest!
Curvy (09/10/2010)
Took the words right out of my mouth, Mallory! I've been following this comic for quite a while. Lately it went from surreal, but still kind of making sense, to totally random and "wacky". To catch you guys up, just 2 strips ago the pirate ship containing our 2 protagonists gets attacked by the ship containing the bad guys.  And now they are playing baseball? What the hell?
Oglaf (10/10/2010)
I didn't get the new Oglaf at first, apparently it involves shapeshifters which were last seen, I think, in this comic (SFW). This comic also subverts Oglaf's favorite trope of adventurers being offered sex as a reward for their heroics. Anyway, here the adventurer turns down this offer, and burns the town instead. But think of all the crazy sex acts you can perform with a woman who has a bag of gold for her head! Like, a blowjob also literally becomes a golden shower! Oh boy.
By the way, if you like shapeshifter-related shenanigans check out Hitmen For Destiny.
Menage a 3 (12/10/2010)
Oh god, where do I start with this? I don't usually read this comic, so I only recognize 1 character out of 4, and it's the guy who appears in the thought balloon covering some chick's vagina. He lives with 2 hot female roommates (not present here), and about 50% of the storylines in this comic are about how he never gets to have sex with anybody. So, this Gary guy should have the biggest blue balls in the history of mankind. The other 50% are about lesbians. We seem to be right in the middle of such a story. The guy at the left makes one of the girls dress like the other so that he can relive his fantasies of twincest (I'm not exaggerating, this exact word was used in the comic). In a way, this comic is like a trainwreck. The writing is bad, the characters are 1 dimensional, storylines are incredibly stupid, but you can't look away. Mostly because the artwork is rather nice.
And finally, the biggest boob on the Internet. The one in dire need of masectomy. I present you,
Surviving the World (12/10/2010)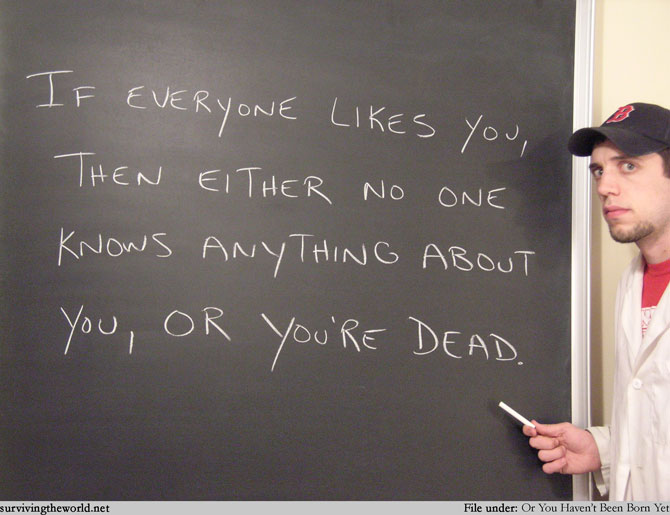 Shut up. Just shut up. You're not clever. You're not witty. Nobody wants to see your smug douchey face near some stupid shit you scribbled on your blackboard. There are 772 of these. 772. I fucking rest my case.
There we go. I got some nice suggestions last time I posted, and yes, I mostly ignored them because of today's "theme", but don't fret – I'm keeping tabs on every webcomic you guys suggest using a special folder in Google Reader which I only open on special occasions. I also made notice of some constructive criticism people provided, and hopefully this column is more entertaining this time. Bring on the hate!